Ferratab
Plant fertilizer
tablets
Perfect fertilizers for your home gardens
Ferratab fertilizer tablets are developed with the aim to improve fertilizer application and productivity in home gardens. Scientifically designed easy-to-use product line includes various complex fertilizer formulations pressed in the form of tablets and adapted for different gardening purposes. Every Ferratab tablet contain all essential nutrients and trace elements and unlike other fertilizers, these tablets act on the soil as well as feeds the plant itself. Smart fertilizers technology extends its usefulness and solubility for three to six months from the moment of application. Humic, fulvic and amino acids that are added during the production process makes it a very special product for gardeners. Every tablet is plant food during the planting stage or growing season.
Ferratab brand products
Ferratab portfolio includes fertilizers to satisfy the nutritional needs for all type of plants: evergreens, flowering trees and shrubs, several types of berries and fruit trees, new plantings, and house basket plants. Products are recognized and can be used in school gardens, family backyards, industrial nurseries, and large city parks. Every Ferratab brand tablet contains the most basic and essential nutrients in perfect combination for growth and quality of your plants for short- and long-term fertilization. Formulations used in production will help you to grow healthy plants and high-quality fruits and vegies.
Application methods
Subsoil application method allows to deliver nutrients directly to plant's root system. It also avoids nutrient loss through runoff, and leaching caused by rains.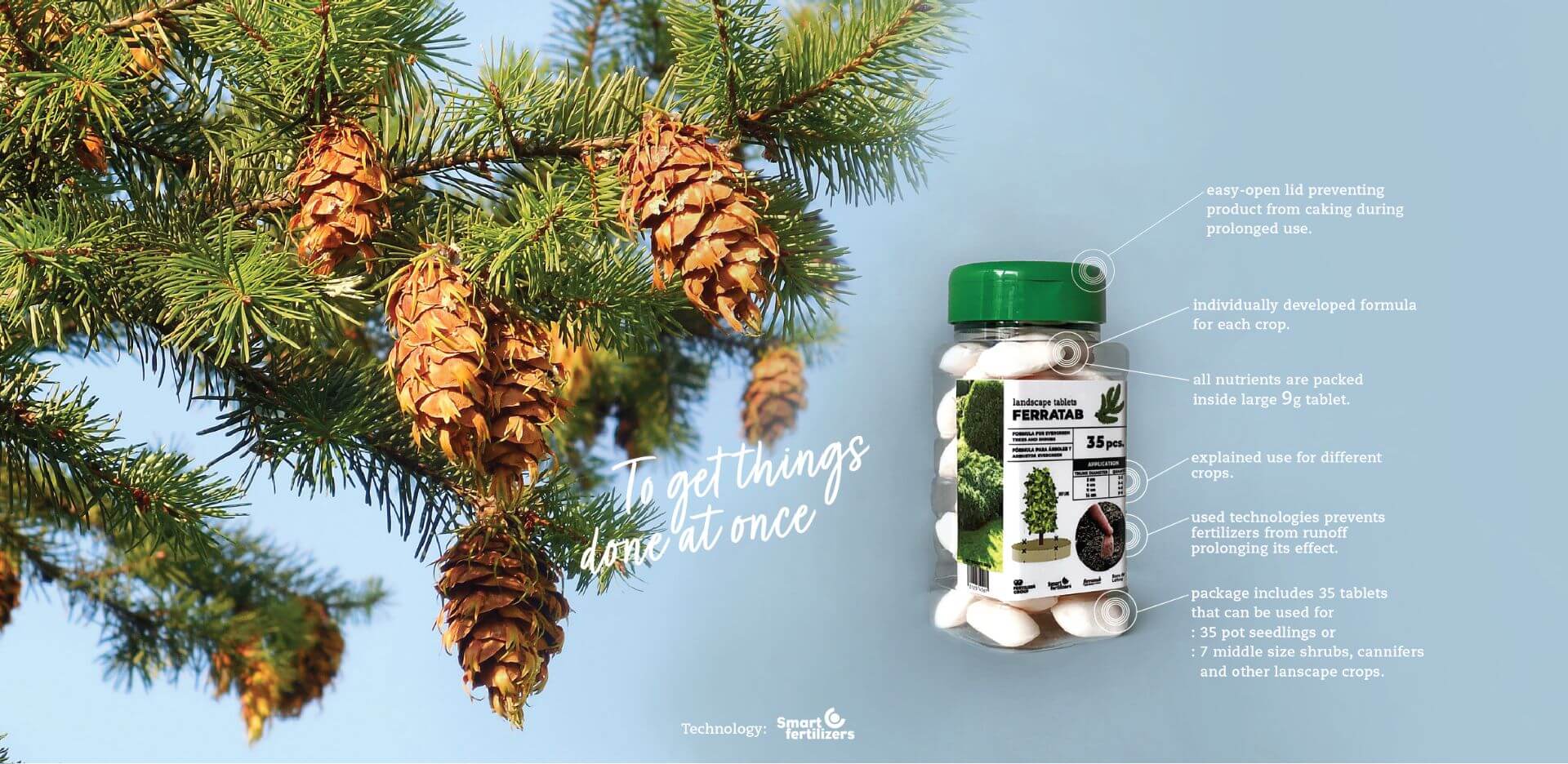 Industrial Ferratab products
Ferratab industrial products are especially recommended for tree and shrub seedlings and nursery plants to put a good start for healthy plant development. Also, in addition to usage on normal fields, it is irreplaceable in hilly or flooded areas where risk of nutrients runoff, leaching and volatilization is the highest. Another important benefit of this specialty fertilizer is reduction of the required fertilizer quantity used in plantations as farmers need fewer applications to maintain quality yields. Ferratab products showed very good results in pineapple fields in Dominican Republic, farmers recorded average yield increase by 20%. Increasing demand from other crop growers confirms true benefits of Ferratab fertilizers.
Wholesale and retail packaging
Specially formulated and customized tablets for industrial farming of oil palms, fruit and banana trees, pineapples and rice can be packed in woven bags from 25 to 500 kg.
For retail stores Ferratab brand products are available in small jars (315g), medium boxes (900g) and large buckets (9kg).